In this month we featured cider from Ascension, Sxollie, Bushel Peck, Udders Orchard and Dunham Press Cider (Left to Right)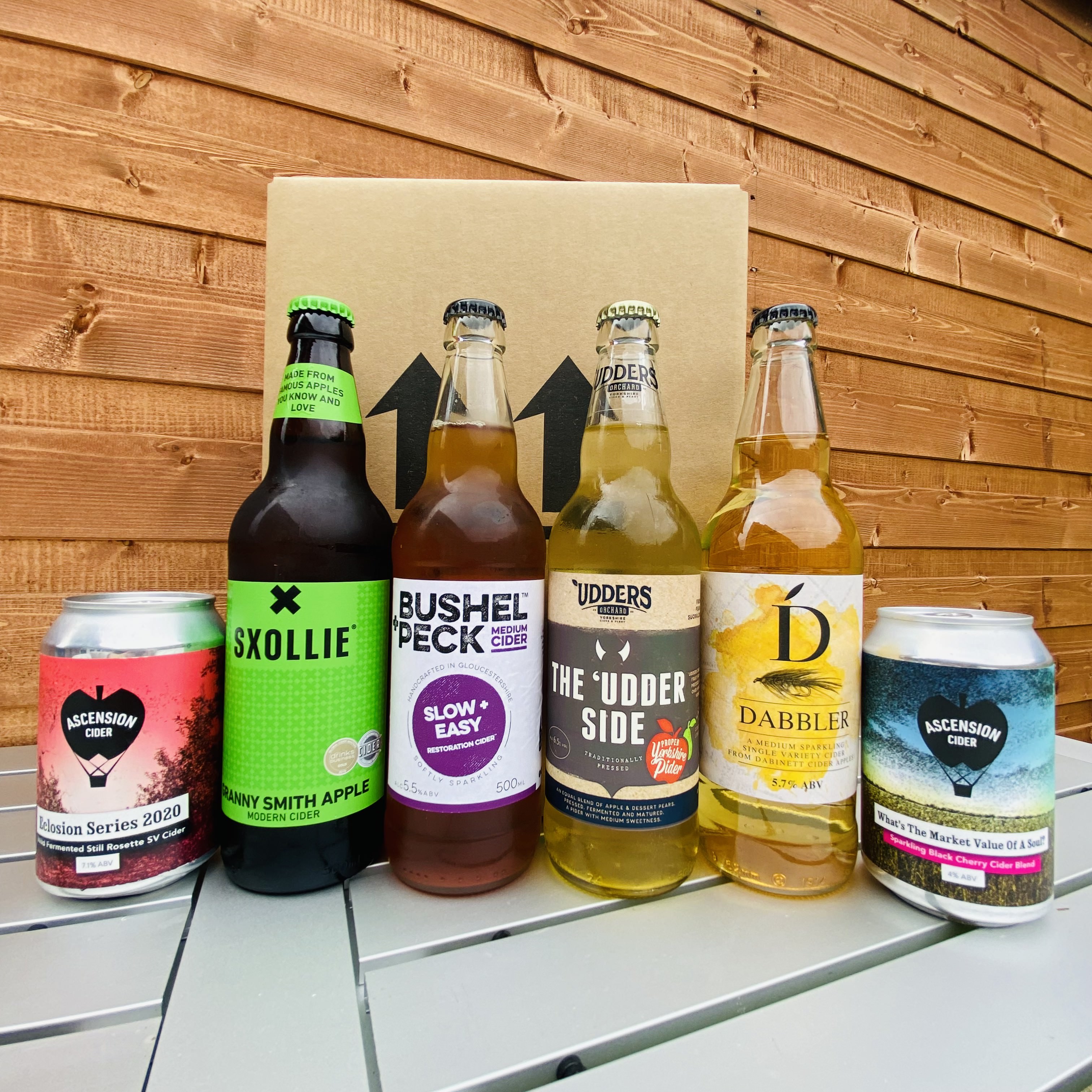 Features
🟢 - Med/Dry Box
🟡 - Mixed Box
🔴 - Sweet/Med Box
Ascension
Eclosion Series 2020 - 7.1%
🟢🟡
A gorgeous deep orange, the aromas reminding us of dried fruit, it was very dry and left us with a tart tongue from the sour acidity. With a short after-taste we were ready to keep taking the next sip!
Sxollie
Granny Smith Apple Cider - 4.5%
Single Variety
🟡🔴
Made from famous apples you know and love? It certainly is, 5 of them to be exact. It's refreshing, crisp and sweet! 🍏
This has actually started popping up in Tesco's and Sainsbury's. Now, here at CiderSub we're all about showcasing cider you don't see everyday….. however, we wanted to make an exception on this occasion…..

1. Because it is truly delicious
2. You might not think to go for it in the shop with it being unfamiliar. We hope by trying this it makes you think about your options again when popping to the supermarket for some cider! Choose quality 😉

Bushel Peck
Slow Easy - 5.5%
🟢🟡🔴
It says easy in the name and they are right! We really enjoyed this cider, it showcased a delicious apple flavour with a nice blend of tannic and acidity, it even gave us a hint of caramel. And the slow part of the name is because it has been matured for 9 months!
Udders Orchard Cider
The Udder Side - 6.5%
🟢🟡
50% Apple, 50% Pear = A Pider!
Pale yellow, sparkling with a fruity floral smell, the flavour profile was acidic at the front, followed by a hint of bitterness and left with a dryer sensation at the back. We also felt like there were some floral hints…. Maybe elderflower? Definitely a medium cider for us.


Dunham Press Cider
Dabbler - 5.7%
🟢🟡🔴
A single variety, rich tannic sparkling cider made from Dabinett apples grown on Cheshire terroir, with a deep caramel aroma.
Ascension
What's the market value of a soul? - 4%
🟡🔴
Black Cherry? We were sold. An eye catching deep red, smelling fruity and rich. The flavour doing as it says on the can, it was all about showcasing the cherry fruit, finishing with a nice sour hint. It was clean and vibrant on the palate. Almost too easy to drink!