In this month we featured cider from Severn, Kent Cider Co, Core Cider, The Cotswold Cider Co, Coleman's Cider Co and Snails Bank Cider (Left to Right)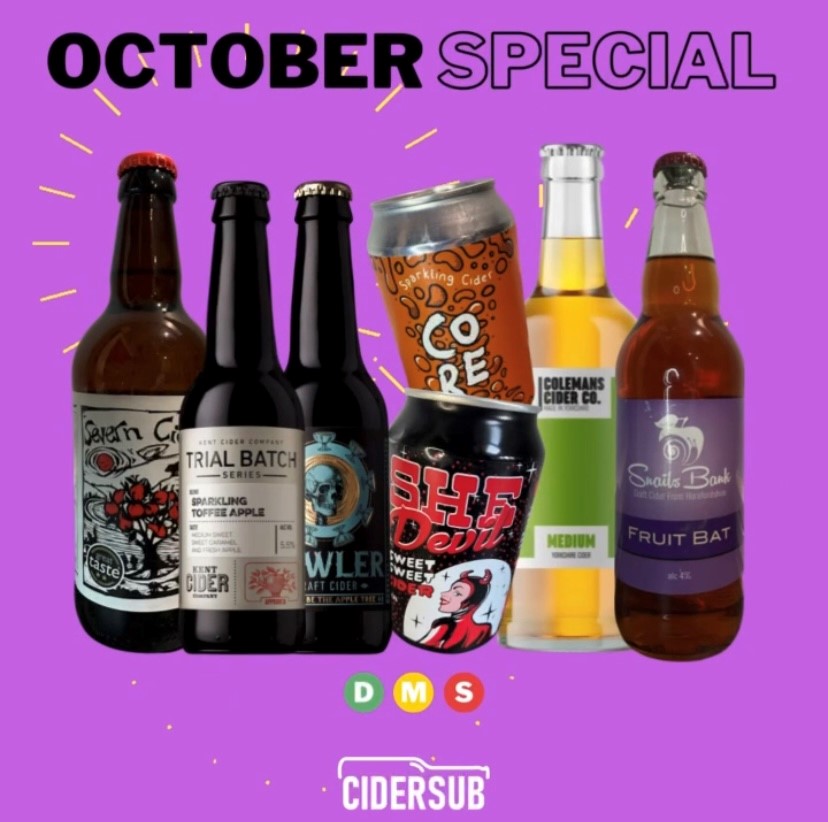 Features
🟢 - Med/Dry Box
🟡 - Mixed Box
🔴 - Sweet/Med Box
Severn Cider
Dry Sparkling - 5.4%
🟢🟡
📍 Newnham, Gloucestershire
👀 Yellow gold pour
We were taken on a journey of acidic, tannic and acidic again. It fully coated the mouth, and left us with a subtle dryness.
Kent Cider Company
Sparkling Toffee Apple - 5.5%
🟢🟡🔴
📍Kent - of course!
👀 Brown amber pour
👃👅 This was all Toffee Apple! It felt like drinking a dessert but was not sickly, 330ml was the perfect size.
Kent Cider Company
Yowler - 5.2%
🟢🟡
📍Kent - of course!
👀 This artwork is 💯 the liquid pours an dark golden amber, it's clear and bubbly.
👃 It always feels like a cop out just saying apple…… but yeah, apples!! It is made with 100% after all.
👅 Says med-dry but we'd say medium, it's full of tannins and super smooth, the sweetness from the apples used do make an appearance too! Delicious and moreish.
Story behind the name? Kent Cider say Yowler, conducts the centuries old ceremony of wassailing where bad spirits are driven from the orchard and good ones are welcomed in…..
Core Cider
Core - 4.8%
🟢🟡🔴
📍Southsea, Hampshire
⭐️ New brand for 2021! It's only been available since July
👀 The can is a pumpkin orange perfect for our Halloween box! It pours a lovely amber colour.
👃You can smell the tannins with hints of caramel
👅 A rich earthy tannic cider to start, it's briefly dry and then you're hit with a taste of caramel and it finishes sweet. With light fizz and short after-taste the flavour doesn't linger too long so you're ready to keep sipping away!
The Cotswold Cider Co
😈 She Devil - 4%
🟢🟡🔴
📍 Oxfordshire
👀 We liked the look of this sassy devil from their ghoulish range. Starting with a bubbly pour it has a yellow hazy colour.
👃 All apple on the nose
👅 And once again in flavour, it's not overly sweet at all, it's just right and showcases a lovely apple taste, making it an easy to drink cider for anyone.
Coleman's Cider Co
Medium Cider - 5.5%
🟢🟡🔴
📍Yorkshire
👀 We love this bold label! It feels modern and stands out from the crowd. This was quite a still pour into yellow/amber and settled cloudy.
👃 We had a earthy, woody, apple mix
👅 You're hit with sharp acidity that completely coats your mouth, and then mellows to a tannic slight dryness. We were left salivating after a taste, leaving us thirsty for some more!
Snails Bank Cider
Fruit Bat - 4%
🟡🔴
📍Herefordshire
👀 A deep clear purple red
👃 Blackcurrant 💥
👅 A fruity cider for sure! It's quite clean, thin and silky on your first sip. You're hit with 100% blackcurrant, it does coat your mouth after-wards and I feel as though I've been eating a fruit pastille!
Don't forget you can still buy this box or subscribe for future ones!