Included in each subscription is a free tasting card to have your own at home cider tasting experience. Here are our cider tasting notes from this month's subscription box.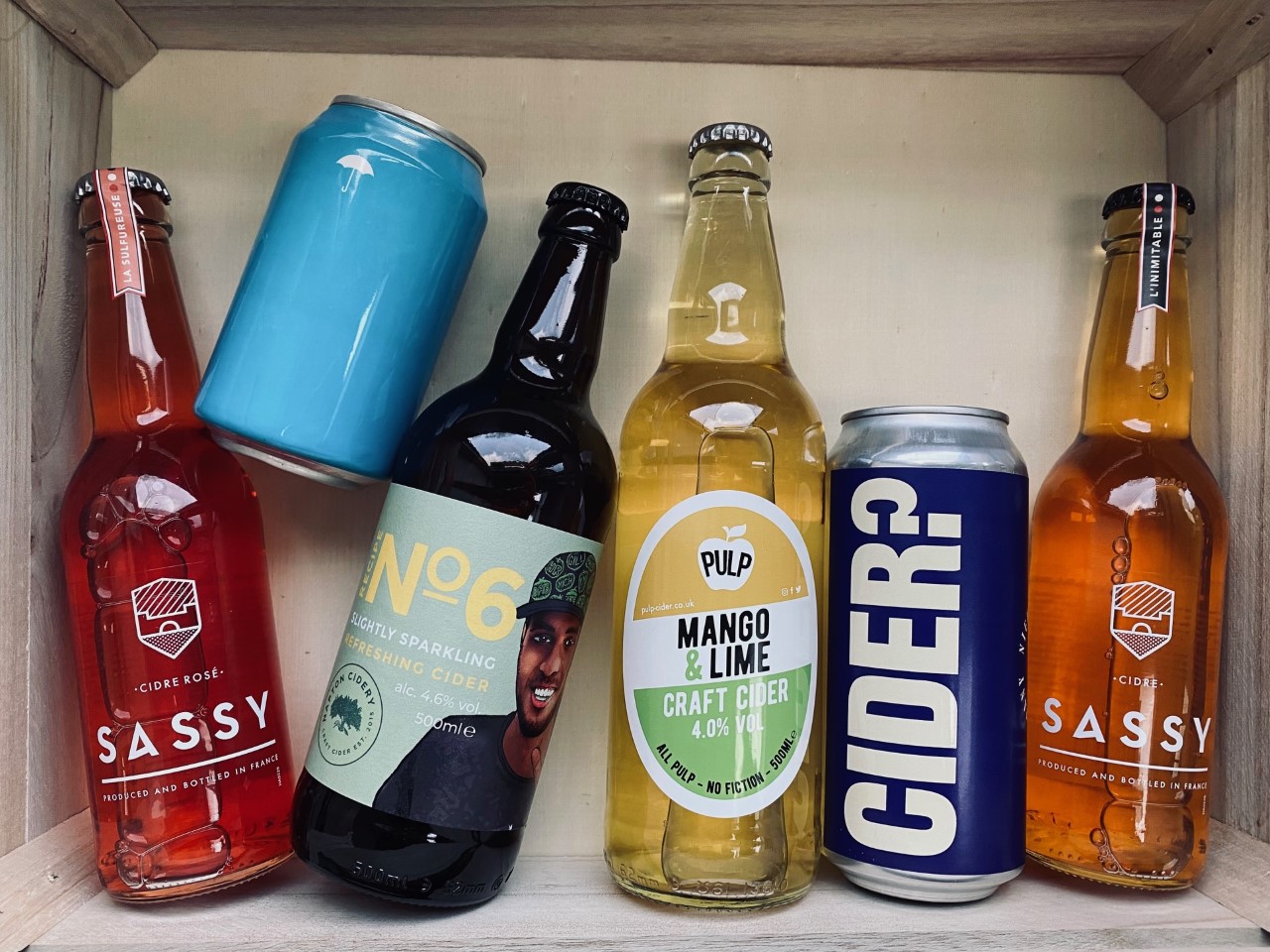 Features
🟢 - Med/Dry Box
🟡 - Mixed Box
🔴 - Sweet/Med Box
Rosé - 3%
🟡🔴
📍 France
👀 A vibrant pink/red, clear with and abundance of fizz
👃 Fruity, apple, undertones of tannin
👅 Tart fruit, hint of sour, intense apple, but no tannin on the mouth, has an acidic zing, sweet. It's powerful, delicious, and leaves a residual sweetness the roof of your mouth and back of the throat.
ℹ Gluten Free, Vegan, Not from Concentrate
It's no wonder it's an intense fruity apple flavour when they've used 18 varieties to create this beauty!
Gooseberry Cider - 4%
🟢🟡🔴
📍London
👀 This bold blue can certainly caught our attention, a very sleek modern design. The cider pours a burnt amber.
👃 Not too much on the nose with this one
👅 It's certainly a gooseberry cider, with tart and sharp notes cutting through the apple. There's a subtle sweetness that creeps through.
No6 - 4.6%
🟢🟡🔴
📍Southam
👀 Gold and amber with a funnel of fizz in the middle
👃🏻 Sweet tannins
👅 A balanced fizz with subtle tannin beginnings with acidity easing it through becoming more prominent, there's a bitterness that cuts through and the flavour dissipates pretty quickly. It's really light too!
ℹ Gluten Free, Vegan
Mango & Lime - 4%
🟡🔴
📍 Worcester, Herefordshire
👀 Golden clear yellow
👃 All fruit, mango is definitely the stand out smell but we even get hints of pineapple
👅 Smoother than expected, with a little immediate fizz that soon dissipates, it's not too strong with mango, just the right amount and the lime balances it out really well so that it's got a little zing. Unlike most commercial fruit ciders it doesn't feel heavy and sugary, it's easy, fresh and fruity!
ℹ Gluten Free, Vegan, Not from Concentrate
Night Bird 4.9%
🟢🟡
📍Kent
👀 We love their bold canned labels that shout CIDER? YES! It's a pale and clear pour.
👃 Apple with undertones of lime and floral notes
👅 It's zingy and acidic with a slight dryness at the end. The apple is strong but we tasted notes of melon. It's lightly sparkling, a clean sip with a short zingy aftertaste.
Maison Sassy
Cidre Brut - 5.2%
🟢🟡
📍France
👀 Dark amber
👃 Undertones of tannin from the apples
👅 The fizz is a immediate but then disappears quickly and your left with a tannic flavour, balanced with some acidity so that it's not overpowering and it makes it really easy to drink, finished with a delicate apple sweetness.
ℹ Gluten Free, Vegan
Did that all sound good? To get your hands on delicious craft ciders like these you can subscribe to our monthly subscription box suited to your flavour favourites (sweet, medium or dry). With a free tasting card so you can make your own notes and delivery included, it's the best at home cider tasting experience for you. Not to mention the felixibility to pause, skip or cancel anytime.
If you're just looking for a one of box we do that too! You can even request ciders from the ciders above (subject to stock) via lauren@cidersub.co.uk