We were four subscription boxes in and realised we hadn't yet featured a Perry! To rectify this, the theme for January is simply apples and pears. Usually featuring several cider makers, we picked just three brands and selected an apple cider and a perry from each to drink and compare. Now this blog is to share our tasting notes but if you're curious about what a Perry is then head on over to our blog post here.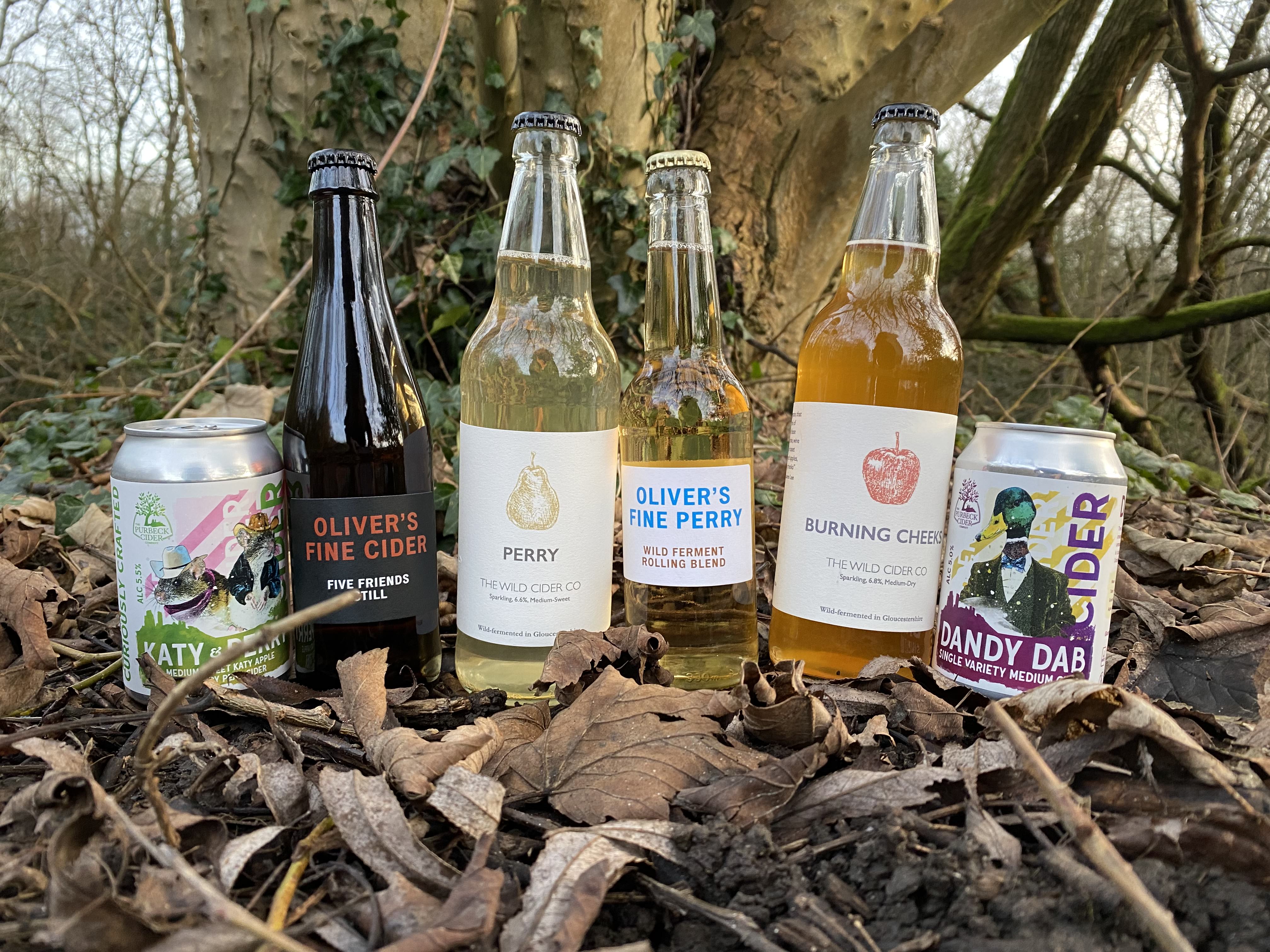 Features
🟢 - Med/Dry Box
🟡 - Mixed Box
🔴 - Sweet/Med Box
Included in each subscription is a free tasting card to have your own at home cider tasting experience. Here are our cider tasting notes from this month's subscription box.
📍Herefordshire
Featuring Oliver's Cider we were able to showcase 'Fine Cider/Perry' for our subscribers to enjoy - a real treat!
What does it mean by 'Fine' you ask? You can find out via our dedicated blog post here.
Fine Perry - 6%
🟡🔴
👀 Clear pale yellow
👃🏻 Wildflowers, fruit, acidity
👅 It's a wonderful little ride on the palate, packed with tones of acidity and a citrus sour burst that mellows into a yummy sweetness. There's floral, cirtus and honey notes in this cider and the flavour beautifully lingers.
Five Still Friends - 6.8%
🟢🟡
The five apple friends included in this drink are: Kingston Black, Yarlington Mill, Dabinett, Foxwhelp & Michelin. Talk about a great line-up and an opportunity to indulge in a still cider.
👀 Lushious Golden
👃🏻 Apple tannins and a warming sweetness
👅 We expected complex due to the variety of ciders and we got just that! It's dry, earthy, full of tannins and you have a richness travelling throughout all of the flavours in this smooth, juicy still cider.
📍Gloucestershire
Wild cider tell us their drinks are made using only two ingredients – apples/pears and patience. Hand picked in Gloucestershire they are all about showcasing great full juice ciders using wild fermentation.
Perry - 6.6%
🟢🟡🔴
We like to drink most of our ciders chilled but Wild Cider told us to have this one at approx 12 degrees. Made up of Moorcroft, Barland and Red Langdon Perry pears.
👀 Pale golden, lime and yellow
👃🏻 A very inviting aroma, we believe we're smelling a fresh fruit basket with floral hints and the smell of sweetness from the pears.
👅 Immediately you get the sweetness of pears, reminds you of delicious sweets, followed by tart and sour and finally settling down into a more delicate flavour with floral essence. It's certainly refreshing and this one has us excited for the lighter nights ahead of us.
Burning Cheeks - 6.8%
🟢🟡
👀 Cloudy yellow, with an orange hue
👃🏻 Not much on the nose
👅 Unexpectedly light to begin, that uplifts in the middle with a tannic tart bite and long dry finish. It's definitely an easy drinker which is dangerous at 6.8%.
📍 Dorset
These cans captured our attention with the artwork, Purbeck were inspired to name these ciders after familiar characters from around their farm.
Katy & Perry - 5.5%
🟢🟡🔴
A fun blend of both apples and pears, perfectly fitting with this months theme.
👀 Clear golden
👃🏻 The apple is more present than the pear here, with some tannin and very subtle floral notes
👅 You get an easy smooth tannin loaded apple cider followed by a slightly drier crisp delicate pear and citrus notes present throughout. It's a nice blend of Katy apples with the perry pears complimenting the apple flavour.
ℹ️ Gluten Free, Vegan
Dandy Dab - 5%
🟢🟡
👀 Pale amber
👃🏻 Apple, earthy, musky
👅 It's light, bubbly, apple and sweet with a citrus finish that slowly drys out. It coats the mouth but is a nice balanced medium cider.
Did that all sound good? To get your hands on delicious craft ciders like these you can subscribe to our monthly subscription box suited to your flavour favourites (sweet, medium or dry). With a free tasting card so you can make your own notes and delivery included, it's the best at home cider tasting experience for you. Not to mention the felixibility to pause, skip or cancel anytime.
If you're just looking for a one of box we do that too! You can even request ciders from the list above (subject to stock) via lauren@cidersub.co.uk