Included in each subscription is a free tasting card to have your own at home cider tasting experience. Here are our cider tasting notes from this month's subscription box.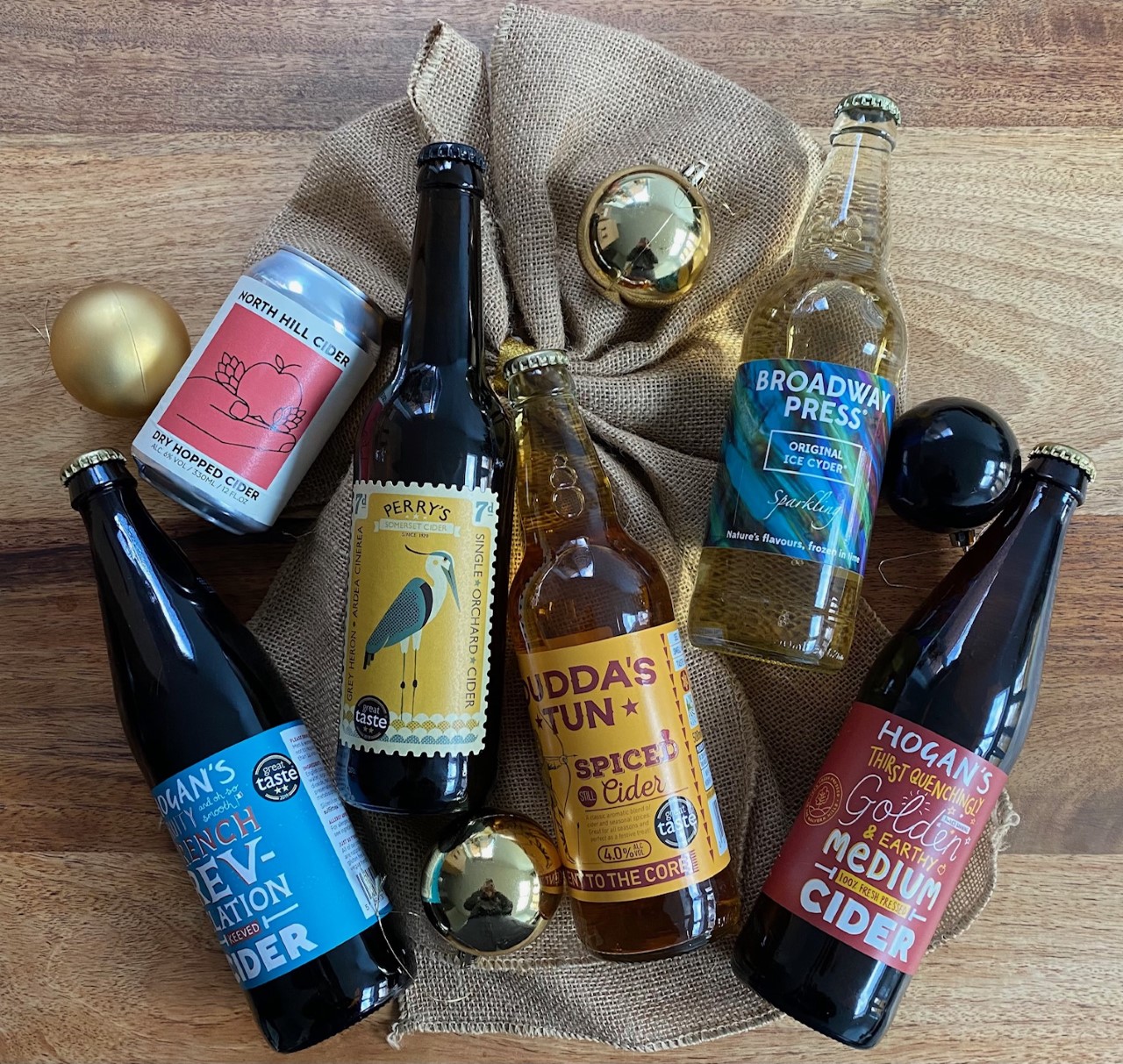 Features
🟢 - Med/Dry Box
🟡 - Mixed Box
🔴 - Sweet/Med Box
French Revelation - 4.8%
🟡🔴
📍 Warwickshire
👀 Amber and clear
👃🏻Strong tannins and apple, you can tell there's going to be a hint of sweetness to the taste.
👅 A tannic bomb goes off, sparkling, honey rich and fruity.
ℹ Gluten Free, Vegan
North Hill Cider
Dry Hopped Cider - 6%
🟢🟡
📍North Yorkshire
👀 Cloudy pale yellow
👃🏻 Citrus and zesty
👅 Really didn't know what to expect with this one! Dances on your tongue immediately, you get a citrus fruity kick that's quickly followed by a powerful acidity that drys out with slight bitterness. The hops are there but not overpowering the drink. You are quickly ready to go back for more!
ℹ Vegan
Grey Heron - 5.5%
🟡🔴
📍Somerset
👀 Pale orange/yellow, with a interesting residue fog!
👃🏻 Light and refreshing tannin odour, reminiscent of a good session cider
👅 Sweet sharpness, carried by a light tannin body with a funky twist! You can tell this Dabinett delight is bottled young to preserve its natural sweetness
ℹ Vegan
Spiced Cider - 4%
🟢🟡🔴
📍Kent
👀 Bright clear orange
👃🏻 As the label says, spiced! And it is not subtle💥
👅 Certainly not a session cider, it's still and packs a punch of seasonal spices which is perfect for the festive season this month. A medium-sweet apple flavour is still very much present but be prepared for that impact. Maybe this one will split the crowd? Probably best to have this at room temperature.
ℹ Gluten Free, Vegan
Original Ice Cyder Sparkling - 5.2%
📍 Cotswolds Orchards
🟢🟡🔴
This cider is where their cider making began! Using dessert apples and their cryo-extraction process.
👀 Pale and clear
👃🏻 Apples, citrus, lime
👅 Lightly sparkling, almost still. It's sweet, smooth and velvety, almost like an apple purée with some tingling acidity.
ℹ Gluten Free, Vegan
Traditional Ice Cider is made by freezing the apple juice and removing the ice. The remaining concentrated juice is then fermented. It is very sweet, full-bodied and rich, almost syrup like. What Broadway Press have done is create an easy to drink cider.
Medium Cider - 5.4%
🟢🟡
📍Warwickshire
👀 Amber
👃🏻 Sharp acidic apple, light tannin
👅 This one took us on a journey, starting with richness and acidity, we're then given apple sweetness with a slightly salty bridge into a tannin finish. We loved the complexity of this unique medium cider!
ℹ Gluten Free, Vegan
Did that all sound good? To get your hands on delicious craft ciders like these you can subscribe to our monthly subscription box suited to your flavour favourites (sweet, medium or dry). With a free tasting card so you can make your own notes and delivery included, it's the best at home cider tasting experience for you. Not to mention the felixibility to pause, skip or cancel anytime.
If you're just looking for a one of box we do that too! You can even request ciders from the ciders above (subject to stock) via lauren@cidersub.co.uk